MINICOLA FAMILY HISTORY
Sabatino Family of Lakefield
Margherita Minicola was the second child of Fillippo and Lucia Minicola and the eldest of the Minicola daughters, born in Roseto, Italy October 27th, 1865. She had emigrated to Canada with her mother and the rest of the children in September of 1886. Margherita married Donato Sabatino on January 10th, 1888 at St. Peter's cathedral in Peterborough.
Donato Sabatino was born February 25th, 1859 in the town of Foggia, not far from the Minicola's home town of Roseto, Italy. He had become a skilled cement mason and had attained the level of foreman in his home town. He sailed for America in 1883 out of the port of Naples and arrived in New York on March 24th, 1883. It seems Donato had met Fillippo and Nicola Minicola in the mid-1880's while they were in Roseto, PA. The three of them along with a couple of other Italians traveled to Belleville, Ontario where they secured work with the Grand Trunk Railway. The Grand Trunk had begun to double track
much of their main line between Montreal and Toronto in 1887 and this would have provided ample work for Italian immigrants, especially those skilled in cement work.
It was during this time that Donato met and married Margheretta Minicola. Two of their children were born in Belleville. Another two were born in
Cornwall. We don't know for sure why they were in Cornwall but there was a Portland Cement company located there and a major bridge building
project was under way in the mid 1890's which may have brought them to the city.This portrait shows Donato and Margerita shortly after their wedding in 1888.
Donato moved the family to Lakefield when the Lakefield Portland Cement Company opened there. The family settled in Lakefield and it became their permanent home. Donato eventually became a foreman at the plant and later retired at that level. They lived in a large house at 34 Albert Street (at the corner of Rabbit and Albert). The family grew to include 8 children: Domenico, Antonio, Concetta, Joseph, Lucia, Maria, Giovanni and Luigi. By 1905 a large addition was added to the home to accommodate the growing family. As the children began leaving home the addition was converted to a boarding house for Italian workers at the cement plant.
Sabatino Family Portrait circa 1905 (approx) Left to right (back row): Lucy, Tony, Michael, Joseph, Concetta
Middle Row: Margarite, Grandmother Lucia Minicola, Donato (Sabatino), Mary
Front Row: John, Louis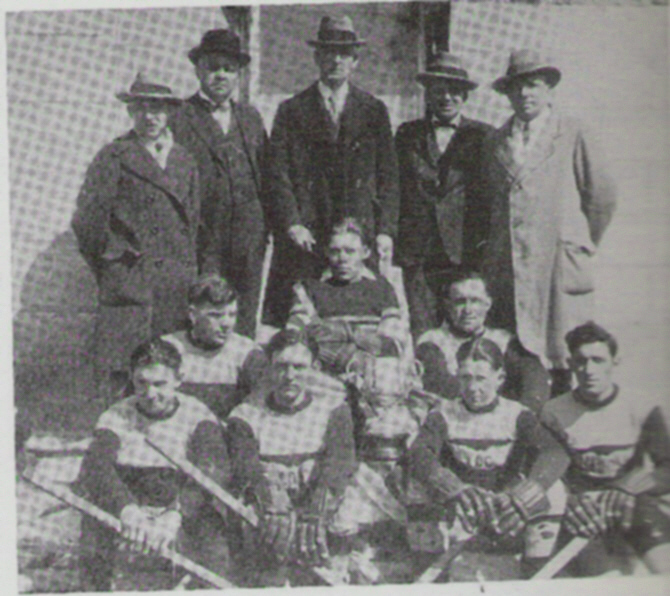 The Canadian Cement Company championship hockey team of 1927.
Front far right is Louis Sabatino, second row far left is John Sabatino.Four of the boys: Tony, John, Joe and Luigi in their younger years worked as clerks at Leonard's Hardware Store on Queen St. on the spot currently occupied by the Pro Hardware store on Lakefield's main street. The family was very active in the community with several of the boys playing hockey with the Lakefeild Cement company hockey team. Most of the boys later also served on the Lakefield volunteer Fire Department. The family was also very active at St. Paul's Roman Catholic church (Lakefield).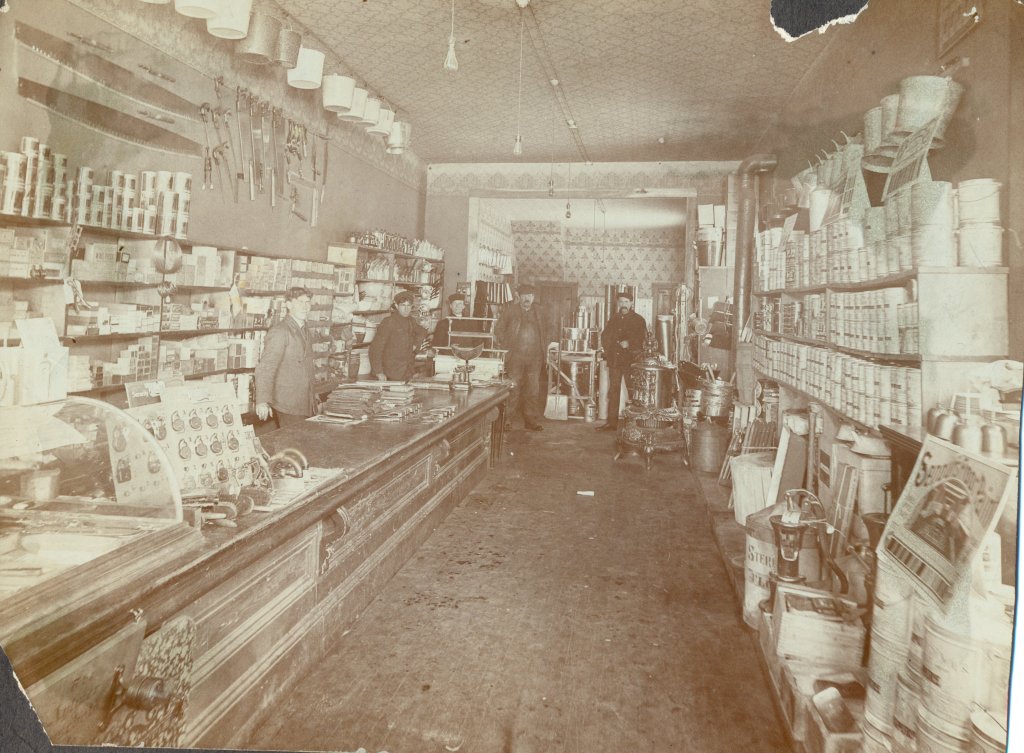 Interior view of Leonard's Hardware store circa early 1900's. Second from the left is likely Antonio (Tony) Sabatino
The children, particularly the sons rose to some distinction in Lakefield and elsewhere. Domenic (Mike) moved to Bangor, PA where he was the road foreman of engines for the Delaware and Lackawanna Railraod. He married and raised a family of three. Antonio (Tony) Sabatino used his experience at Leonard's hardware to secure a full time position with a hardware wholesaler. He was promoted and moved to Chicago where he was put in charge of a large territory that included most of Chicago's west side. He eventually became responsible for overseeing a territory that included most of the American Mid-west.
John Sabatino worked at the cement company after his time at Leonard's hardware. He eventually went on to become the manager of the Nepheline Mine Company in Lakefield and Nephton. Luigi (Lou) Sabatino also worked at the cement company. He went on to become manager of the Johnson Construction company in Brantford, Ontario.
Giovanni (Joe) Sabatino made the ultimate sacrifice while fighting in the First World War. He was hit by a sniper's bullet while helping a wounded comrade during fighting in France. He is buried in the Moeuvres Cemetery in France and his name appears on the Cenotaph in Lakefield. The following article appeared in the Katchewanooka Herald in 1918:LAKEFIELD SOLDIER WAS KILLED WHILE HELPING WOUNDED COMRADE
Gunner J. Sabatino Was Hit in the Head With a Rifle Bullet – The Grave in France.Particulars are given in the following letter of the death of Gunner Joseph Sabatino, who lived in Lakefield, and enlisted with the 10th Battery, C.F.A.He was killed on September 27, 1918. The letter was written to Miss Ray of Lakefield:
France, Oct. 11, 1918
My Dear Miss Ray-
I can hardly tell what makes me write this letter to you. It must be that I often heard J. Sabatino speak of you, and if you would read this letter to his mother it may help her in her hour of sorrow.I happened to be with poor Joe when he met his death. He was going to help a wounded comrade when he was hit in the head with a rifle bullet. He never spoke. In fact it was so sudden that I thought that he had dropped on the ground to escape shell fire. I spoke to him and, receiving no answer, I lifted him up and saw at once that he was gone.It was impossible to get the body away at that time but, the next morning, September 28th, we went up again and took the remains back out of shell fire and buried him well behind the lines. We erected a neat wooden cross with his name and his number on it.Believe me, Miss Ray, a better soldier than Joe will be hard to find. He was everybody's friend and very popular in the battery. We all feel the blow keenly. I knew him since he first came to France and in all my experience I never once saw him ill tempered. He was ever willing to help everybody, and we all know that we have lost a true friend.
If there is anything else I can do to get the location of the grave, etc., I will only be too glad to do anything in my power. Hoping that this war will soon end, I remain,
Yours Truly,
Gunner C. Shoebottom,
10th Battery C.F.A., France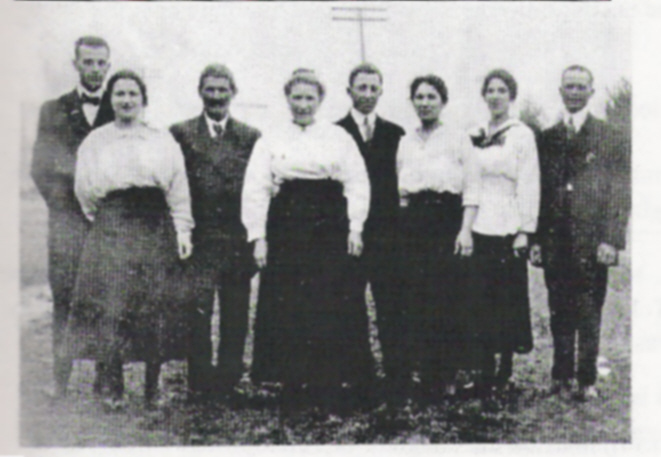 Above – Margareta Minicola, her husband Donato and their three daughters with their husbands.
L to R: Frank Asta, his wife Mary Sabatino (they owned a fruit store on Charlotte Street in Peterborough for many years), Donato Sabatino, his wife Margaretta Minicola, Pat White (aka Pasquale Bianco – He anglicized his name from Pasquale Bianco to Pat White), his wife Concetta Sabatino, Lucy Sabatino, her husband Michael Lucano. Date taken: About 1920 Place: Albert Street, Lakefield